Maharishi Mahesh Yogi - Sage for a New Generation
a film by Alan Waite
NEW! - Historical Collector's Edition DVD

with special bonus features:
Maharishi Photo Gallery with Paul Horn Flute Background

Commentary about the film and Maharishi by the director

Maharishi's own words, describing how he started the
Transcendental Meditation (TM) Movement

Menu with Scene Selections


Recently digitally re-mastered on DVD from the original negative, this historic film, as seen through the eyes of the 60's Generation, now offers never-before-released production notes and other bonus features, making it an essential part of every TM library.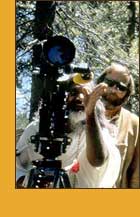 Filmmaker Alan Waite was specifically commissioned by Maharishi Mahesh Yogi to make this film about TM in 1968. It won 'Best Documentary' in the 1969 Hollywood Film Festival, being noted for its 'patchwork quilt' style.
His holiness Maharishi Mahesh Yogi first came to America in 1958, to start the TM Movement. Now, 50 years later, there are TM centers in most of the free countries around the world.